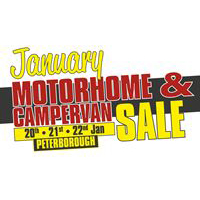 Dates
20/01/2023 - 22/01/2023
Venue
Oundle Rd, Alwalton, Peterborough, PE2 6XE, UK
Organiser
Out and About Live
Details
The January Motorhome & Campervan Sale is back for its second year, but for 2021 in February as The New & Used Motorhome & Campervan Sale.
With all the uncertainty over flying abroad, why not pop down to this free event, compare a large variety of different styles/layouts, speak to the experts and see what the motorhome and campervan lifestyle can offer you for 2021.
This motorhome & campervan sale event will give you the chance to get the keys to your first/next motorhome or campervan ready for an exciting year of rallying in 2021.
Make the most of your budget with a large range of new and used models available to view in our vehicle supermarket.
This will be one of the UK's largest pop-up multi-dealer showrooms, with exclusive offers to kick start the new year.
Entry is free, but registration is essential for entry.
Registration for FREE tickets
https://www.outandaboutlive.co.uk/shows/show/the-january-motorhome-campervan-sale