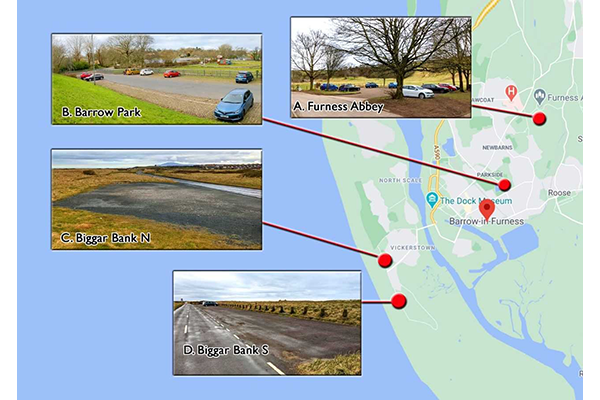 Image Source Credit: https://barrowbc.gov.uk/visitors/motor-caravans/
Working in partnership with Cumbria Tourism we have identified some locations for overnight stays.
We would like visitors to experience some of the beautiful places Barrow and the surrounding areas have to offer. From Furness Abbey, a historic English Heritage site on the outskirts of Barrow, to the award winning Nature reserves, this Victorian town steeped with industrial history, has something to offer campervan enthusiasts.
The spaces available in Barrow will be at Furness Abbey, Barrow Park, Bigger Bank North and Bigger Bank South.
The limited spaces are free and on a first come first served basis. If the space of your first choice location are full, you will need to try alternative sites. The parking bays will be signposted and have a QR code for easy booking.
Users must vacate the site by 12 noon the following day.
Users of the sites must read and agree with the Code of Conduct and then book daily via the link
Code of conduct
Cumbria: Motor Caravanners' Code
Cumbria's unique environment includes two National Parks, three Areas of Outstanding National Beauty and two World Heritage Sites. This world-class landscape is here for everyone to enjoy and we look forward to welcoming you and helping you create unforgettable memories.
BUT we need your help. All of us who live here, who work here and who visit, have a vested interest in working together to support this precious landscape for the benefit of all – now and for the future.
To help us achieve this goal, we're asking you to follow these simple guidelines:
Support local businesses -
Enjoy quality food from local shops, cafes and pubs, and visit local attractions.
Think like a local -
Value the communities you visit and the people who live here. You can do this by:
Plan your route and parking - Luckily most of our narrow country roads have passing places to avoid congestion, but it's important not to park in these and to avoid narrow passes and single-track roads wherever possible.
Be a considerate driver. If a car is stuck behind you, just pull over in at a safe place to let them pass – give them a smile and a wave!
Always choose to park in an approved location, book in advance if you can and leave plenty of space between vehicles when parked up. Be careful never to block roads and gateways.
Don't rush off! Hop out, leave the vehicle, stay a while and enjoy the local area on foot, by bike, boat, maybe even horse or segway!
Leave no trace - Take litter away with you, recycle where you can.*
Show the environment some love - Dispose of all grey and black waste at official locations with safe and legal facilities. Disposing of waste inappropriately means harmful chemicals can seep into the lakes and waterways. Some of our public toilets aren't on the main sewerage system and chemicals from portable toilets can damage them.
Stay on track – Let's keep our verges looking wonderful.
Toilets – there are limited public toilets in the area.
Find a great spot - Book a site before you set off and please respect no overnight parking and camping signs.
Eat out, but don't light up – Enjoy local food al fresco but avoid lighting fires/barbeques.
* The 4 sites in Barrow do not have waste facilities on site at the moment. Recycling can be taken to any recycling point and grey and black waste to Bardsea Leisure in UIverston.
Help is at hand
Check out our map of facilities and routes to avoid: www.visitlakedistrict.com/vanlife
Download route ideas, find inspiration and approved locations to stay.
We can't wait to welcome you!